The Production as seen in Reaper
Music Recording and Production Notes
We work in Reaper and start by recording a normal 3 minute or so piece.
The above screen shot of the production shows the 9 instrument and two effects tracks we ended up with. Several Guitar, Bass and synth.
And by guitar we mean
Fender Stratocaster, modified with a bridge hum-bucker
, and by Bass we mean Fender JBass. Not being a
real
Bass player means I like the neck of a JBass and I play with a pick. The synth here is just a Korg Monotron, but we do have a real midi keyboard and LOTS of VST synths when we actually play keyboards.
The top track is drums using the grooves that come with the "Drum Kit From Hell". They are played by a real drummer, and that makes a big difference.
The synth noises are inspired by the type of thing in Jean Michel Jarre and The Edgar Winter Groups Frankenstein and Free Ride tracks. The Monotron does that well, and it is a fun little box.
As we do it all ourselves we play one part at a time and start by assembly a basic drum track in ezDrummer for reference. The rest in this case is just made up on the spot. I do multiple takes and variations, edit something together, then that can cause an idea for a different part or instrument.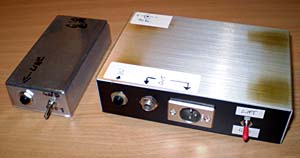 Phantom powered speaker emulator DI
Instruments are all Di'ed, and I record guitar and bass with distortion already on it. It is just so much a part of the playing.
I really appreciate the way Deep Purple's Machine Head was recorded in 2 weeks, with only a couple of overdubs, at the T intersection of two hotel halls. Pretty much describes our studio space too. It is recorded very much as a band can play it live, and I kind of do the same thing here. We are not put down 128 different tracks.... and have 30 tracks of automated effects... However, if we were doing the soundtrack to Babylon 5, we would do things differently......
This is arranged, then mixed. Used EpicVerb (Variety Of Sound ) for reverb and Classic Delay (Kjaerhus Audio) as a synced, ping pong synced echo on the lead guitar. Also a bit of compression, and high pass filtering on the tracks, and a limiter on the output.
Normally this would be rendered and output as a 24 bit file, that I than master in Ozone 5 in a separate Reaper Project to make a 16 bit audio file. But not in this case. Just added some compression and limiting and output a 16 wav file for the video project, as this isn't stand alone music.
Here we just check it sounds ok on our small 3" test speakers and our 5" Auratone clone, as we don't expect most people watching YouTube have a great sound system set up.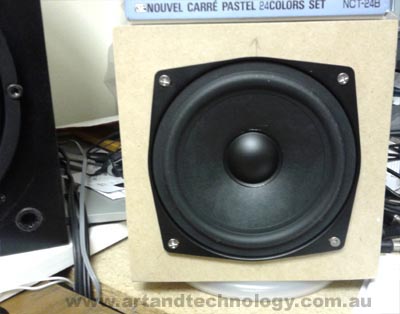 Our Auratone Clone
The Track and Edit
This is for a 30 second video so we then edited and produced a short edit from the longer piece. If I did it on a different day I would have used different sections. It is purely a feel thing. The above has what was used at the start, followed by the longer rough composition. The longer part isn't finished, but also isn't used at the moment.
It is here because I find hearing this type of thing really interesting.
For example:
Rodger Glover has done remixes of Deep Purple's albums and I love to hear the mistakes and what the untrimmed tracks were. Black Night for example goes on way longer then the single and they end up just kind of slowing and stopping, and not all at the same time. There is also an organ mistake that was edited out of the single... interesting stuff. And what about the alternate guitar solo in Smoke On the Water?
This stuff is actually for Christmas Cards. You will also note that it doesn't sound very Christmas Song like. We think that is actually a very good thing. It is also kind of "Heavy" in the heavy rock sound sense. The drum kit is actually a Death Metal Kit, but you wouldn't notice that. It probably
needs more cowbell
...
These heavy elements are here as the illustrations they go with are light and cartoony. Love to play against type.
Making the Video
So we have a 30 second bit of music, and we imported that and our images into Sony Vegas Movie Studio HD. The video format is a slide show type of thing. We do have AfterEffects for doing really complicated things, but have kept this very simple. It is basically just a very short advertisement for our
"Cool Yule" Santa Hot Car Xmas, Happy Holiday Cards on Zazzle.
The Vegas Video Production
As we have compressed and limited the sound in Reaper, we have to make sure Vegas has it's default sound processing off, or things go weird. Vegas works pretty much the same way as Reaper, so a very simple workflow.
We render this at 640 x 360 for use on YouTube. The file we upload is an MP4. If we were working in After Effects we are more likely to do it at 856x480.
And the result is this:
Other samples of production and illustrations are at
Art & Technology
. You got to be in it to win it!