eBook Cover Designed for all eReaders
eBooks need a cover designed. Despite the well known saying, "don't judge a book by its cover", people do.
Most eReaders only have a greyscale eInk display at the present time. In the picture above we have the Kindle 6" WiFi on the left with our book, and on the right the Kindle App on a Samsung Android Phone with a 4" display. Same size as the original iPhone. It has to look good on both displays.
We have done our own cover as a vector design. That means we can make it as big or small as we need. Even though the file that is included in the book, and actually uploaded to Amazon was a jpeg file.
It is interesting to see the Book Marketing Guide and Smashwords Style Guide from Smashword's Mark Coker don't look that great when viewed on an eInk Kindle. There isn't enough contrast and they are very washed out. Mark Coker provides a list of such cover designers at Smashwords, but maybe you should contact me first!
For some reason some people have also used text that isn't black in their eBook. This too is washed out and not appropriate, even though it would be fine on an iPad.
Our eBook
Hot CAR-toons, Dudes, Dudettes & Stuff At the Heavy Metal Garage
is available at Amazon.
Then there is the promotional material: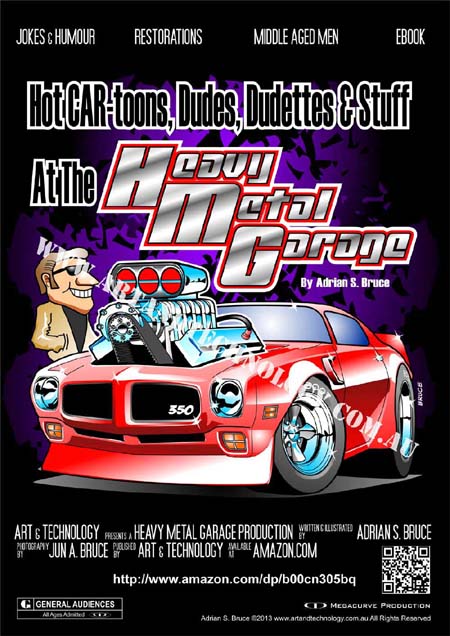 Movie like eBook Poster Design
Or even video teaser?
Contact us at
Art & Technology
.