Rock Guitar Santa Merry Christmas Card
is now available. He could be playing the blues, but it would be the ZZ TOP variety.
This is an illustration combing hand drawn Santa with a vector background and text.
The Santa was inked with COPIC MULTILINER BM and BS brush pens. Gives the wonderful line thickness variation that gives it life. This is then scanned into Photoshop and colored with mostly flat colors. Only the guitar has some airbrushed graduations. The lines are the top most layer and set to multiply. Lower layers are used for coloring the coat, boots and other items.
This was then brought into CorelDraw and combined with the background and text. That was then exported into Photoshop again for the sparkles and bright spots.
Also available
Bass Santa Merry Christmas Card
.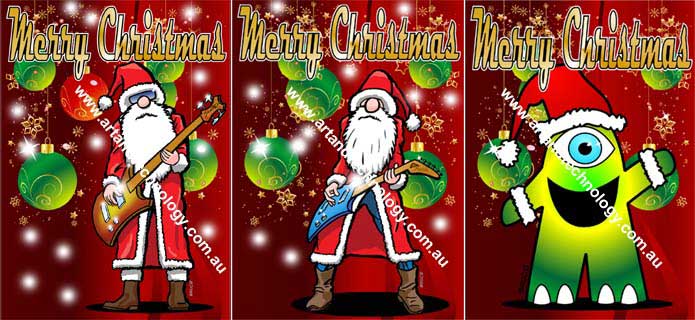 And there may be others....
The guitars are intentionally not like any brand, such as Fender, Gibson, Ibanez, or ESP. This is because we don't want any issues with those companies brand police.