I have spent a lot of my time in
Art & Technology
. The application of Technology to Art, and the use of Technology in making Art.
At Roland & Fairlight, that was inventing cool technology for electronic musical instrument's electronics, software and firmware. Did a few products that are actually famous, but I was an engineer in the back room that you never heard of. Didn't get a mention in developing the series III, the first modern sampler in
Peter Vogel's History for example
.
Same deal for my 15 years in Japan with Roland.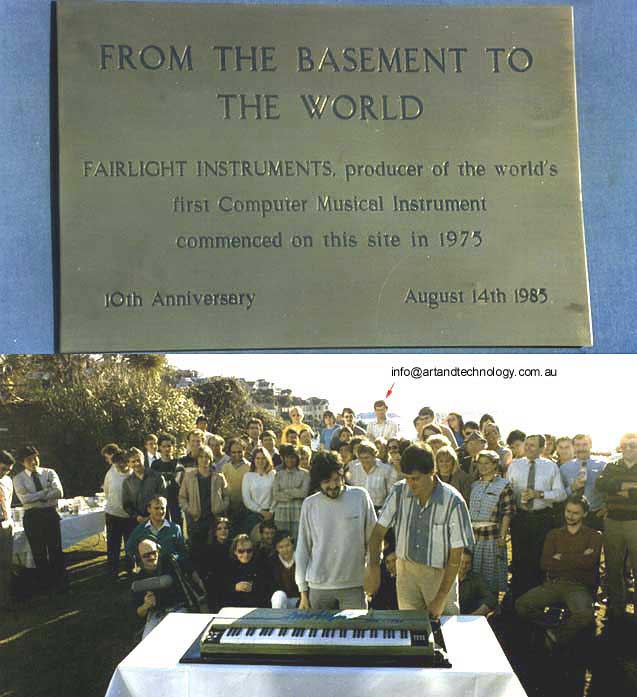 But it fills me with pride to have been the architect and guy that did all the new original schematics of the Series III.
Hans Zimmer described in 2011 that the machine was way better than it should have been. This is what he used to get to where he is today:
"It did have a quality about it, and I don't think it was just luck, you know.
People are talking about the sonic quality of a series III Fairlight while forgetting the output stage of that thing was the same filter , and I "think" the same VCA , as was in a Jupiter 8 or Prophet 5.
I mean they ran through those, you know what ever... SSM chips and that was the filter on that thing, ..um… so there wasn't a reason really it should sound THAT much better than something else as everything else was using the same stuff , but I think there was a design aesthetic, and it is the guys building it.
I think the people that built our instruments, I see them as much as artists as I see them as scientists."
This is from
Part 4 from 2min 30sec in these videos
. All are actually in English.
I would love to say it was
THAT
much better because I was involved with it, but some of that was related to the variable sample rate I had inherited from the original design.
I also did things like the Graphics Display for the series II (because the one Kia Silverbrook designed couldn't work) and the double density floppy controller, a 12bit channel card of the series II, IIx that was built but not gone ahead with.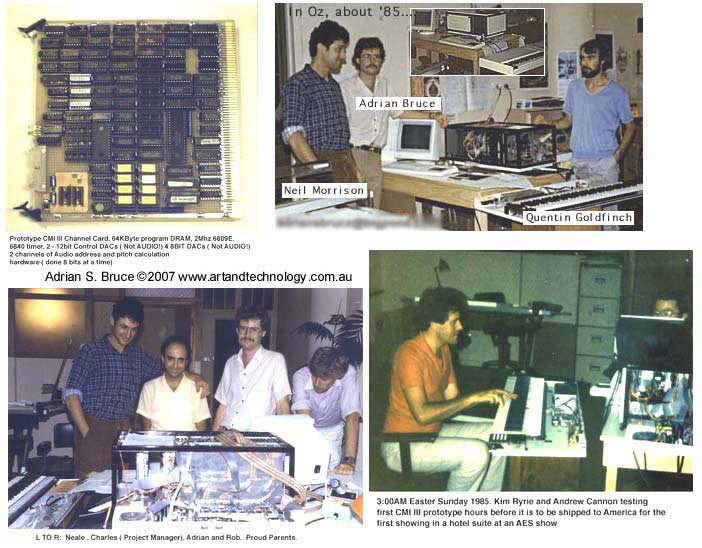 I then went overseas and did, or was behind (proposed and started ) quite a few things at Roland in Japan. Elastic Audio, Human Rhythm, phrase based composition and Virtual Analog being some, but it was such a hard road, with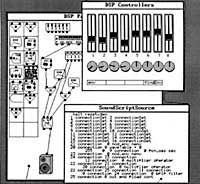 many involved, that at the end, they aren't "my" products.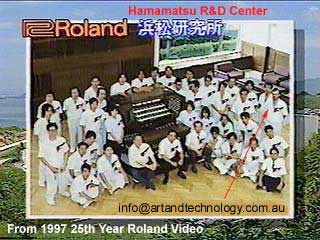 I have always drawn and been involved with audio and music. I started making audio gear, synthesisers and the like as I didn't have any money to buy anything for my own musical interests. The Art is something I have always needed to do too. Mostly drawing, but have also sculpted and constructed things.
Since returning to Australia in 2001 I've been involved in many non audio and Art projects to earn a living, usually on short term contracts or freelance with no full-time position on offer.
About 7 years ago I had applied for a job at Cochlear, which is audio related, and you would think that would be a great application of what I have learnt. But I was rejected as the department manager interviewing me even told me
"he didn't want me taking his job"
after the HR girl had left. So actually being experienced in something doesn't always help in Australia. That isn't the way I have gone about things and I always thought that reflected very poorly on the Cochlear corporate culture. That they have since had a product recall doesn't surprise me when management has political motivation above all else.... not technical excellence, or making sure no harm is done to any customer. Other ex-Cochlear staff I've meet during my contracting since then have said it seems
the place has gone out of its way to get rid of people that actually knew what they were doing,
so in that light, it is kind of a compliment that they didn't want me!
So I have had to be flexible in what I do. You can check out some of the things we have been involved with here:
http://soundcloud.com/megacurve
http://www.youtube.com/adriansbruce
....and we have published a cartoon joke
eBook on Amazon too
.
Now that is a cartoon and joke book, with some behind the scenes on how they are done. Not a drawing book as such, but how the rendering is done.
I have actually been told a book on "Designing the Future" on the electronic music stuff I've designed would be more interesting. Luckily I have all my notes and diaries from those times.
Some of my Series III design notes, plots and photos
I always took photos too.
But my own experiences so far have told me, no one here wants to hear what I have done.
Love to hear from anyone interested in a possible
Designing the Future
book. Most likely an eBook for the Kindle. It wouldn't be a technical design analysis at all. More as to how and why we did what we did. I was originally very much an audio/music/album/guitar/synth guy and considered sound quality important and was into amplifier and speaker design and all that had an impact......
Contact us at
Art & Technology